About
Hear all about NFBA and the 56th NFBA Conference & Expo on MetalCoffeeShops Metal Cast Podcast!

NFBA is a non-profit trade association that promotes the interests of the post-frame construction industry and its members.
The association's members are primarily:
Post-Frame Builders
Suppliers
Manufacturers
Building Material Dealers
Code and Design Professionals
Structural Engineers
NFBA is the only national trade association that represents post-frame industry professionals. The association exists to support its members and stimulate the growth of the post-frame industry.
To do so, the association helps its members by providing:
Industry Tools and Code Resources
Education
Access to Technical and Legal Experts
Builder Accreditation Programs
Newsletters and Post-Frame Market Development Updates
Networking Opportunities.
NFBA member companies provide services or materials to a variety of building types including:
Agricultural (equestrian stables, barns)
Commercial (retail stores, strip malls)
Industrial (warehouses, storage facilities)
Public (firehouses, medical clinics)
Institutional (schools, churches)
Residential and Remodeling projects.
800 Member Companies across NFBA
They meet annually at the Frame Building Expo to:
Network
Learn
Exchange information.
NFBA unifies all members in the spirit of community.
NFBA supports its members' businesses by listing their company description and contact information on NFBA.org's "Find A Provider" search tool for prospective clients. For more information on membership benefits, click here.
Mission
The National Frame Building Association's (NFBA) mission is to advance the post-frame building industry.
Value Proposition
NFBA membership gives each member organization a distinct advantage as they work hard to expand their business. NFBA shapes the future of post frame and provides our members with a measurable return on investment through networking, trade show, technical support, education, research, codes/standards development and accreditation.
---
History
On a cold November day in 1969, 20 Midwestern post-frame builders gathered in Chicago to discuss building code changes that would directly affect their businesses. Some of the builders were competitors and knew each other well. Some of the builders were total strangers. But they had one thing in common – a desire to fight for their livelihoods, and the post-frame building.
The future of the post-frame building was being threatened by a pending Indiana building code. Freemon Borkholder of Borkholder Buildings, Inc. rallied builders who saw that post-frame structures were moving beyond agricultural applications. Many builders had moved heavily into commercial and industrial building using the post-frame building concept. But a move by Indiana's Administrative Building Council to adopt the BOCA code for commercial applications threatened the industry, because it did not include post-frame building design concepts.
Borkholder knew that, acting as a team, post-frame builders would be heard. "We would be banding together with our voices to be heard as an association, instead of individual builders," he said. "If you tried to go to the building council as an individual, it wouldn't carry clout with them. But as a group, and with everyone in harmony as an association, it meant that the industry was speaking."
After much discussion, the name National Frame Building Association (NFBA) was selected. With the establishment of a name, the association pushed onward.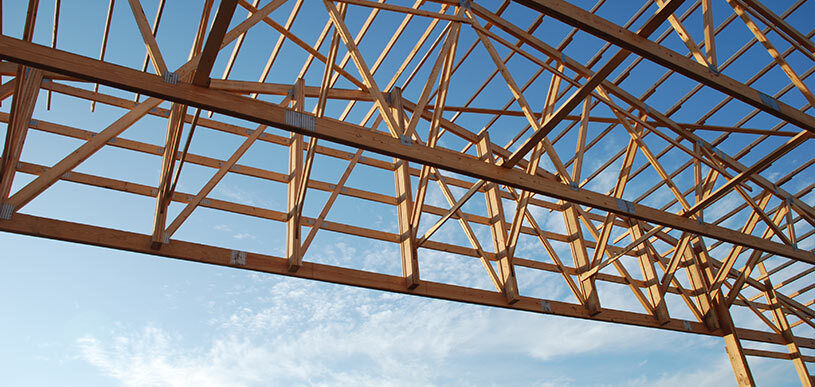 With the help of a team of engineers and architect Merrill Jones, the builders were able to demonstrate that post-frame structures would meet the load laws of the roof and other necessary applications. Merrill drafted new specifications on post-frame construction for commercial buildings which he submitted to Indiana's Administrative Building Council. Eventually, Merrill convinced the council to adopt his specifications. Shortly thereafter, the association established itself as a national group.
Over the years, NFBA has actively helped post-frame builders grow their business. If it weren't for the association's many actions, which include funding research, advocacy and development of design standards, post-frame builders would be confined to just building on the farm.
The first benefit provided by the association - that of industry advocacy – continues to this day. Some regional public representatives attempt to prohibit post-frame buildings in specific areas, as they are unaware of the durability and sustainability of post-frame buildings. NFBA addresses these misconceptions by means of conferences, education programs, and marketing.
The association owes its existence to its members and volunteer leaders who dedicated their personal time and resources. The association's success is a reflection of the character of those dedicated individuals. With their continued support, and that of future generations, the future of the post-frame industry remains bright.