Bernon G. Perkins Award
One of NFBA's highest honors - The Bernon G. Perkins Award is presented at the annual Frame Building Expo Awards Luncheon to an individual who demonstrates exemplary service to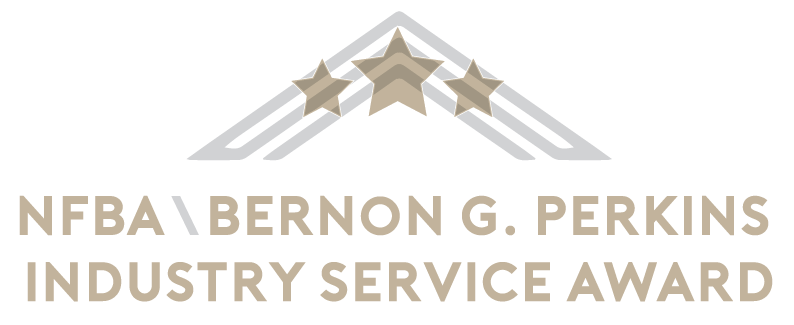 the post-frame industry. The winner is also featured in Frame Building News magazine.
To nominate someone you feel qualifies for this prestigious award, please fill out and submit the nomination form.
---
Criteria
Current NFBA Member
Dedicated over 5 years to the industry.
About Bernon G. Perkins: Bernon G. Perkins is credited with refining the evolution of the modern post-frame building from a temporary "pole barn" to a longlasting structure. Red cedar poles were used before Perkins' time, lending up to a decade or more of longevity to structures. When red cedar poles became scarce in the mid-1930's, Perkins used creosote-treated poles to provide primary structural support. This innovation extended a typical pole building's life by several decades. Perkins pioneered several design enhancements and post frame has since proven an economical and efficient building system for a multitude of uses.
---
Bernon G. Perkins Award Winner
---
Past Perkins Award Winners
2022 - Tim Royer
1999 - Bob Moore & Gus Gilderbloom
2021 - Matt Greiner
1998 - Russ McGinnis
2017 - John Hill
1997 - Dr. Don Bender
2016 - John Wick
1996 - Dr. David Bohnhoff
2015 - Henry Getz
1995 - Dr. William Bickert
2014 - Randy Ridenour
1994 - Dr. Art Muehling
2013 - Ron Sutton
1993 - Dr. Kifle Gebremedhin
2012 - Gary Auman
1992 - Bill Friday
2011 - Leo Shirek
1991 - Ken & Glen Umbaugh
2009 - Dr. Harvey Manbeck
1990 - Dr. Harvey Manbeck
2008 - Doug Rammer
1989/1988 - Al Dale
2007 - Roy Reiman
1987 - Dr. Frank Woeste
2006 - Pat McGuire
1986 - Bernon G. Perkins
2005 - Pete Kohl
2004 - Leo Shirek
2003 - Barry Bingham
2002 - Harold Schroth
2000 - Dr. David Bohnhoff